Water Bottle for Dog - Never Let Your Dog Go Thirsty Again!
Jul 12, 2022 by mewoofun
Water Bottle for Dog Traveling or dog walking
Mewoofun water bottle for dog is a great way to make sure your furry friend never goes thirsty again. These handy bottles come in a variety of sizes and styles to suit any need, and can be easily carried along on walks or trips to the park. Whether you choose a traditional style water bottle or one with a built-in bowl, your dog will be sure to appreciate having a way to stay hydrated on the go." If you've ever gone for a walk on a hot summer day with your dog, you know how important it is to make sure they stay hydrated. Carrying a water bowl and a water bottle for your boy & girl.
Mewoofun water bottle for dog is a great way to keep your pet hydrated on the go. These bottles come in a variety of sizes and styles to suit your needs." If you're looking for a way to keep your dog hydrated on the go, a water bottle for dog is a great option. These bottles come in a variety of sizes and styles to suit your needs. Some water bottles for dog feature a built-in bowl, so you can just pop it open and let your pup drink. Others have a detachable bowl, which is great for dogs who are hesitant to drink from a bottle.
Mewoofun water bottle for dog is an essential item for any pet owner. Not only does it provide your pup with a refreshing, clean drink of water on hot days, but it can also help prevent dehydration." If you're a pet owner, then you know how important it is to keep your furry friend hydrated, especially during the hot summer months. A water bottle for dog is the perfect way to do this, and it's also a great way to prevent dehydration. There are a lot of different water bottles for dogs on the market, so it's important to choose one that's right for your pup.
The Benefits of Walking Your Dog
1. Dogs are active, naughty and lively. Whether it is a growing puppy or an aging dog, it is very important to go to the outside world. In the survey, it was found that dogs who grow up with sufficient exercise generally live more than 12 years.
2. Going out for a walk can not only exercise the dog's body, the ultraviolet rays in the sun can also kill the bacteria and parasites on the dog.
3. Consume its excess energy and make it quieter at home.
4. Exercise is very important for dogs. If you don't exercise often, obesity is easy to occur. Like people, obesity means that various diseases will follow.
5. Walking the dog is not only good for the dog's body, but also makes it learn how to deal with strangers and other dogs, cultivate their social skills, and make the dog mentally healthier.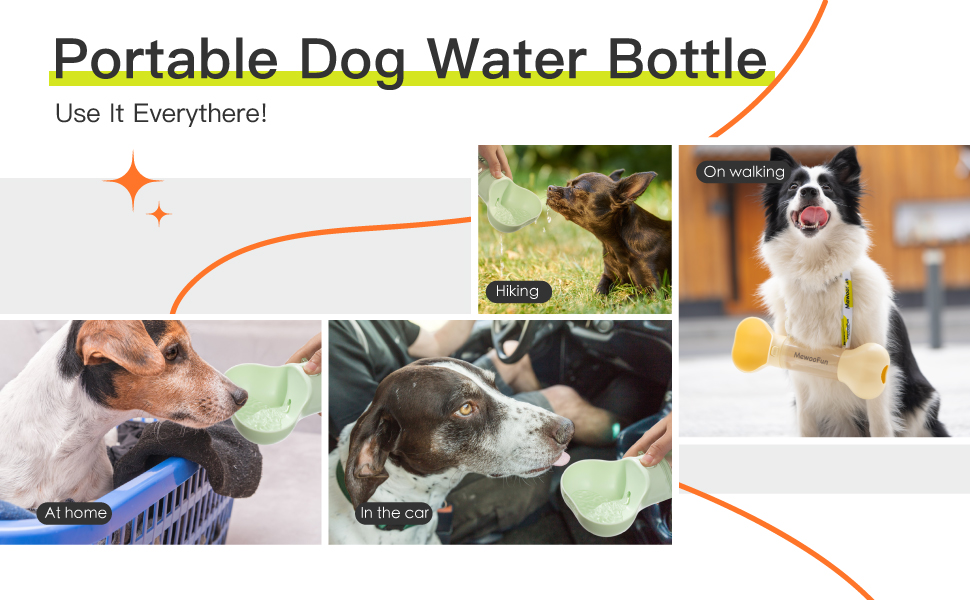 Where dogs choose to go to the bathroom is an important decision. It's not just about relieving themselves, it's about communicating with other dog. Dogs use their urine to signal their presence to other dogs. And in turn, smelling other dogs' urine tells a dog all about the other canines in the community, including their gender, age, and health. This just like a dog want to write a mail to keep dogs up-to-date on what's happening in their neighborhood.
Considerations When Buying a Dog Water Container/Bottle
Before purchasing, it is important to look into the features of the water bottle that's right for your pup. Check the following factors:
Purpose
Dog water bottles may differ in sizes and shapes, so evaluate first the purpose for it. A lightweight bottle would be viable if you enjoy short walks with your dog.
You might need a bottle with a smooth exterior if he plays or hikes a lot with you. Select a bottle with over 20-ounce water capacity for long walks and trips. This will make certain that he won't go thirsty anytime.
Material
Consider the material making up the dog water bottle from stainless steel to plastic. Know why and how one differs from the other.
Plastic – Many pet parents would not prefer plastic bottles since they are not eco-friendly. However, most of these bottles are manufactured with materials that are BPA-free, making them hygienic and safe for your pet. They are lightweight and easy to carry on long hikes and walks.
Stainless steel – These bottles are mostly in demand and common among others. The water inside the container remains fresh and cool. However, the downside of this material is that it is heavier and not handy.
Portability
You may want to ensure that the bottle is easy to carry. If you are planning to walk your pet around all day, make sure that the bottle will not cause any trouble.
Try to consider containers that come with clips, straps, or carabiners for easy attachment to your backpack or belt.
Safety
A good container needs to be safe as your pet will be drinking from it. See to it that it's made from approved pet-safe materials. Note that even little nooks can fester, making the bottle difficult to clean, and worst, put him at risk.
Leak-proof
Make sure that the bottle does not have a leakage as it may contain either a hot or cold water for your dog . Oftentimes, bottles have a double or single lock to prevent leakage. Mistakes can happen to either of them so secure the lock properly. Chances are, water may continuously drip.
Ease of Cleaning
Water bottles naturally get dirty and stinky since they serve as your day-to-day companions. Consider their cleanliness to ensure the safety and hygiene of your pup's water intake.
Most of the bottles reviewed below are dishwasher safe though. However, there are still other bottles that need not be put inside the dishwasher without damaging it. You just need to read their label first before placing it inside.
Capacity
Never underestimate the water capacity of the bottles, especially the portable ones. Small and medium-sized containers are suitable for short trips or walks.
Invest in bottles that are a bit pricey if you are fond of much longer walks, running, or playing with your pal. This may require bottles with a larger storage capacity. So, the right size is dependent on his size, his activity, or the season.
Drinking Feature
Most water containers for dogs are manufactured to have a dispenser, bowl, or cup feature. This allows your four-legged friend to easily lap up the beverage and would not require you to bring an extra bowl.
Having a lid that serves as an additional cup is beneficial as separate bowls can get more space and get messy. It would be more convenient to pick one that you can control the release of water.
Another feature to check is its function to retract water to remove waste. Get a bottle that has a filter if you do not want to retract dirty water into the container. Of course, it should make the drinking session of your pup comfortable no matter its design.
Now, let's test your learning with our review of the top bottles for dogs below.
Top Water Bottles for Dogs
Choose the right bottle for your dog here:
Mewoofun Dog Water Bottle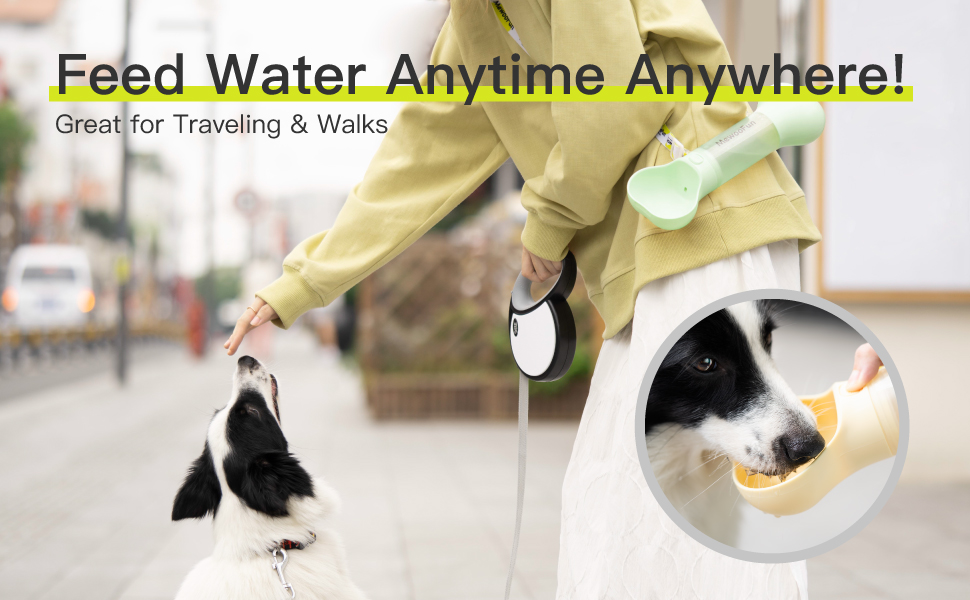 If your dog comes along for a hike, car ride, or any outdoor adventure, a portable water bottle for dog and bowl are essential. Puppies especially need lots of water. To find the ideal dog travel water bottle you should consider material, durability and user-friendliness. After very careful research, Mewoofun find the Best dog water bottles of 2020. so don't miss it.
I never knew how much I needed a water bottle for my dog until I got one. It has made walks and hikes so much easier and my dog never gets thirsty now." I never knew how much I needed a water bottle for my dog until I got one. It has made walks and hikes so much easier. My dog never gets thirsty now and I don't have to carry around a water bowl. I would highly recommend getting a water bottle for your dog if you take them on walks or hikes often.