6 Halloween Pet Safety Tips to Keep Your Spooky Companions Safe
Oct 26, 2022 by mewoofun
The spookiest time of the year has arrived. And while October 31st may be your favorite day of the year, there's no denying that it can be a bit more challenging when you live with pets. Whether they're frightened by ghouls and goblins or they're prone to getting into things they shouldn't, this Halloween may be trickier than any other night of the year! That's why it's important to have some tips handy for keeping your pet safe this Halloween...
Halloween should be full of treats, the occasional trick and plenty of adorable pet Halloween costumes filling your social media feeds. Unfortunately, it's also full of potential dangers to our pets, from pet costume snafus to toxic treats to even electrical shock. We spoke with Dr. Bethany Howe-Fanning, DVM, CVA, of Hawkins Animal Hospital and Wellness Center in Ronkonkoma, New York, to put together a list of Halloween pet safety tips.
1. Watch Out for Candy Capers
When it comes to Halloween pet safety, keeping all that Halloween candy out of reach of dog and cat counter-surfers is absolutely essential. While your pet really shouldn't be eating any of it, there are some types of Halloween candy that are particularly toxic to pets, including:
Chocolate: Pet parents might love chocolate, but this sweet treat is poisonous to dogs due to the theobromine found in it, which dogs have a harder time digesting.
Raisins and chocolate-covered raisins: Raisins can be extremely toxic to dogs and could lead to kidney failure.
Sugar-free candy: Xylitol is an artificial sweetener found in many foods, including certain sugar-free candies, that's extremely toxic to dogs and can cause low blood sugar, seizures, liver failure or death. Xylitol doesn't, however, cause serious problems in cats, according to the American Society for the Prevention of Cruelty to Animals (ASPCA).
Caramel apples: First, super-sweet caramel is never a good idea to feed pets. Second, the seeds inside of caramel or candy apples can really make your dog ill as they contain a form of cyanide, says Dr. Kiko Bracker, DVM, DACVECC, director of emergency and critical care for MSPCA-Angell Animal Medical Center in Boston, Massachusetts.
Candy corn: "Signs associated with ingestion of large amounts of sucrose and glucose [found in candy corn] are going to be gastrointestinal," says Dr. Leonel Londoño, DVM, DACVECC, clinical assistant professor of emergency and critical care at the University of Florida College of Veterinary Medicine in Gainesville, Florida. "With severe diarrhea and vomiting, signs of dehydration and abdominal pain may also develop, requiring veterinarian attention."
Macadamia nuts: These nuts are highly toxic to dogs and eating even a small amount can cause weakness, tremors and lethargy in dogs.
2. Choose a Comfy Costume
Costumes and masks can be choking hazards for your pets. If your pet becomes entangled in the costume or mask, there's a risk that it could strangle him or her, make sure that the pet is supervised at all times and that he or she can remove the costume themselves if necessary.
Follow these tips when dressing up your pet:
Choose a comfortable costume that fits properly, doesn't restrict movement and doesn't hinder your pet's ability to breathe. (Pay special attention to those Chewy size guides!)
If your pet displays any signs of stress or discomfort which, according to Dr. Howe, can include pacing, hiding or refusing to move, take it off. (No cute photo op is worth your pet's discomfort.)
Check the costume before the big night to make sure there are no loose buttons or embellishments that your pet could tear off and swallow.
Ensure their Halloween fashion show is brief. Your pet might be game for a quick Instagram photo session in their costume, but they may become uncomfortable if left in their outfit for a longer period of time.
Never leave your pet alone when they're dressed in their costume. You need to keep an eye on them in case of a costume malfunction, like if their costume gets caught on something.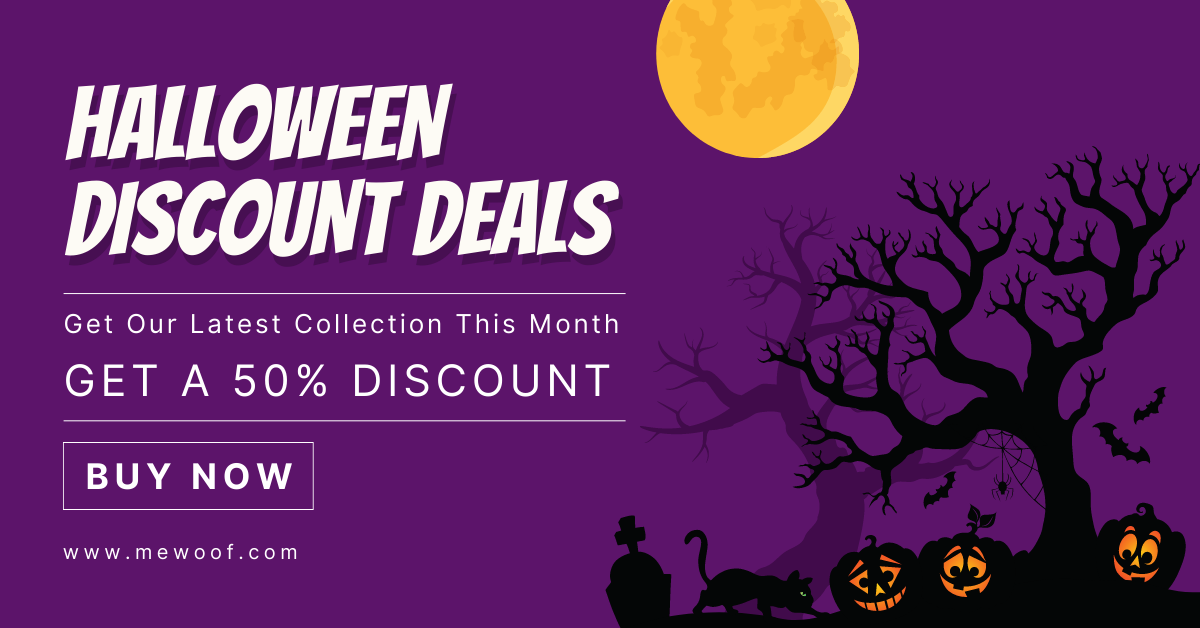 3. Beware of Decoration Dangers
Some Halloween decorations can also pose a Halloween pet safety risk, such as:
Electrical cords: Pets can easily chew on them and get an electric shock or get tangled up. Opt for decorations that run on batteries, rather than electrical cords.
Fog machines: You don't want them to consume the possibly toxic solution. Keep these away from pets or pass on them period.
Glow sticks: Some pets may mistake these for chew toys. Similar to fog machines, you don't want them to consume the possibly toxic solution. "Thankfully, the liquid inside glow sticks is nontoxic, so it won't actually make pets sick," Dr. Jennifer Coates, DVM, a veterinary consultant in Fort Collins, Colorado, tells PetMD, "but it does taste awful." And according to the ASPCA, pets who bite into glow sticks may begin drooling and running around the house.
Candles: Lit candles on their own or in jack-o'-lanterns are seasonal favorites, but boy are they fire hazards. Dogs and cats can easily knock them over or burn themselves. So, opt for faux candles or keep them in an area out of pet's reach.
Small decorations or decorations with small baubles: These can be a choking hazard. Skip these types of decorations.
4. Watch Out For Costumed Trick-Or-Treaters
Some people may choose not to take their pet along for the festivities, but for those who want to bring their four-legged friends with them, there are a few safety precautions that should be taken into consideration. One of these is making sure your pet is wearing a safety vest so it can be easily seen and identified as a pet, not a person in costume. If you plan on bringing your dog, make sure its leash is securely wrapped around your wrist and the other end is attached to your dog's collar. It might also be wise to carry a flashlight or glow stick in order to help see at night. Not only will this light help you see where you're going but also help drivers see you and your pup on the road. It's always important to keep pets away from food dishes filled with human food, which could lead them to become ill due to consuming toxic items like chocolate, garlic, or onions. Be aware of all lit candles (even those placed outdoors), including pumpkins that have been lit up by an electric candle inside of them. Finally, never leave your pet outside alone if they will be left unattended because animals often fear fireworks as much as humans do and this can lead them running off or hiding during celebrations where they might get lost or harmed without someone looking out for them.
5. Keep Them Away from All the Hocus Pocus
Can you think of anything scarier than one of your pets getting loose? No spooky story or horror movie can compare to that scary scenario! With the front door opening and closing so often on Halloween night, it's best to keep pets away from the door and all the action to prevent them from slipping out, leaving you with a lost pet.
During trick-or-treating hours or if you're having friends over for a small (socially distanced) Halloween get-together, the best course of action is to keep your pets safely crated and out-of-sight of the front door or in a secure, quiet room, advises Dr. Howe. Be sure you add some creature comforts to their secured space, such as their bed, water, food, your cat's litter box and a favorite toy.
6. Know Who's Home When You're Away
Make sure your pet is wearing tags with up-to-date contact information that includes your name, address, and phone number. If you're going out of town, ask a trusted neighbor or friend to stop in and check on your pet from time to time. While you're gone, be sure the doors are securely closed and windows are closed or have safety screens in place. You may also want to leave a light on or install a timer so that it turns off automatically when you're not home. Also make sure all food, water dishes and litter boxes are clean before leaving. It's always best to keep pets indoors as they can't defend themselves if they get outside.