5 Reasons Why a Cat Window Perch is Good for Your Feline Friend's Life
Sep 13, 2022 by mewoofun
One of the best ways to keep your cat healthy and happy, both mentally and physically, is to get them off their food dish for a little while each day. One way to do this that's incredibly simple and keeps them close to home? A cat window perch, which puts them in close contact with the outdoors and lets them enjoy bird-watching from a safe distance. Here are five reasons why you should get your cat one today!
Safety
Cats are natural explorers and it can be tough to find safe cat window seats that are both secure and fun. Cat window hammocks give cats the chance to see what is going on in the world outside their window, plus provides an extra comfy spot to curl up in. Finally, there are some great cat bed perches made out of sturdy material that won't leave your furry friend teetering on the edge.
Activity
The Mewoofun cat window perch has been scientifically engineered to be the perfect viewing perch, providing cats with everything they need. The Mewoofun cat window seat has three different levels of surfaces to satisfy the needs of most cats. Cat window seats and hammocks can provide comfortable outdoor napping places or an elevated place to view scenery outside the window. Cat bed perches are often a favorite, but beware of window blinds that will interfere with your cat's enjoyment.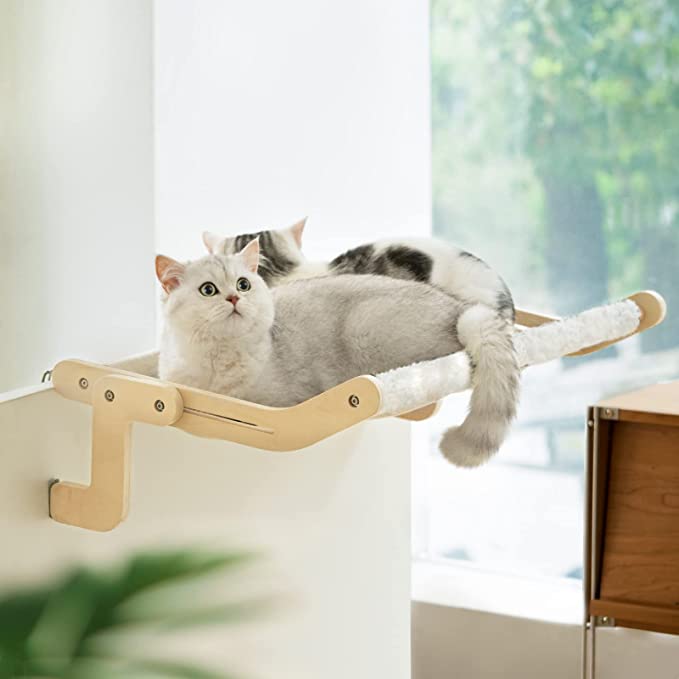 Companionship
Whether you have to be away from home for the day or weeks on end, there are many benefits to having your cat accompany you. A cat window seat will give your pet both fresh air and sunshine, which can do wonders for their well-being. If your furry friend needs additional comfort during this time, they can curl up in their favorite cat bed perch or window hammock. Furthermore, it keeps them more social while they wait patiently by the window waiting for you to come home!
Outlet
It's no secret that cats love lounging in the sun and feeling the breeze in their whiskers. Help your cat get the best of both worlds with this awesome cat window hammock. They'll have more fun and you'll have one less place to step on a cat toy! Cat window perches offer many benefits such as providing: A better view - If your kitty can't even see outside, why would they be happy?
Sunlight
Getting cats used to being indoors can be difficult, but there are some simple tricks you can use to improve the situation. Having a cat window hammock or perch, for example, can help provide your kitty with extra comfort and an escape from the rest of the household activity. However, it is important to make sure that if you do use one, it does not block any air flow.