Why a Large Wooden Hamster Cage is the Best Choice?
Aug 12, 2022 by mewoofun
Best Hamster Cages: Mewoofun Cage for a Happy Hamster
The best large wooden hamster cage is the one that has plenty of room for your hamster to roam around and play. It should also have a few hiding places for your hamster to feel safe and secure. A good cage will also have a water bottle and food dish attached to it." If you have a hamster, then you know that they need a large cage to roam and play in. But what is the best large wooden hamster cage? There are a few things to consider when choosing a cage for your hamster. The first is the size of the cage. It should be large enough for your hamster to run around and play in, but not so large that it is overwhelming. The second thing to consider is the type of material the cage is made from. Wooden cages are a great option because they are sturdy and easy to clean. Most hamsters spend the majority of their time in their cages, so they need a cage that will allow them to express their natural behaviors. So Big hamster cage become necessary.
Why choose Wooden Hamster Cage?
【Wooden Hamster Cage with House】
Cage dimensions: 18.5"L X 12.9"W X 9.8"H. House dimensions: 9"L X6.2"H. 5 sides acrylic design is convenient to observe your hamster. Perfect for robo hamsters, dwarf hamsters, small gerbils and small chinese hamster. Notice: the cage just includes one house and support bar accessories.
【Easy to Interact with Your Pet】
Insert the support bar, you could place hamster cage accessories easily or touch and feed your furry friend. Of course, you also could lift the cover by hand directly, turning angel 0°-50°.
Are you anxious that have no space to place hamster wheel or water bottle? Our cage maybe a good choice. Side holes are easy to hang water bottle & hamster wheel. Notice: the hole diameter is 2.54".
【Excellent Ventilating Performance】
The holes on both side and slits on back which provide adequate ventilation for pets. The cage is made of safe material (acrylic board, MDF and beech pillar). Providing a comfortable and safe life for your furry friend!
【Easy to Assemble & Clean】
Drawable acrylic front board make the bottom board more easier to clean. It takes about 30-45 minutes to assemble the cage. Following our english manual and experience DIY fun!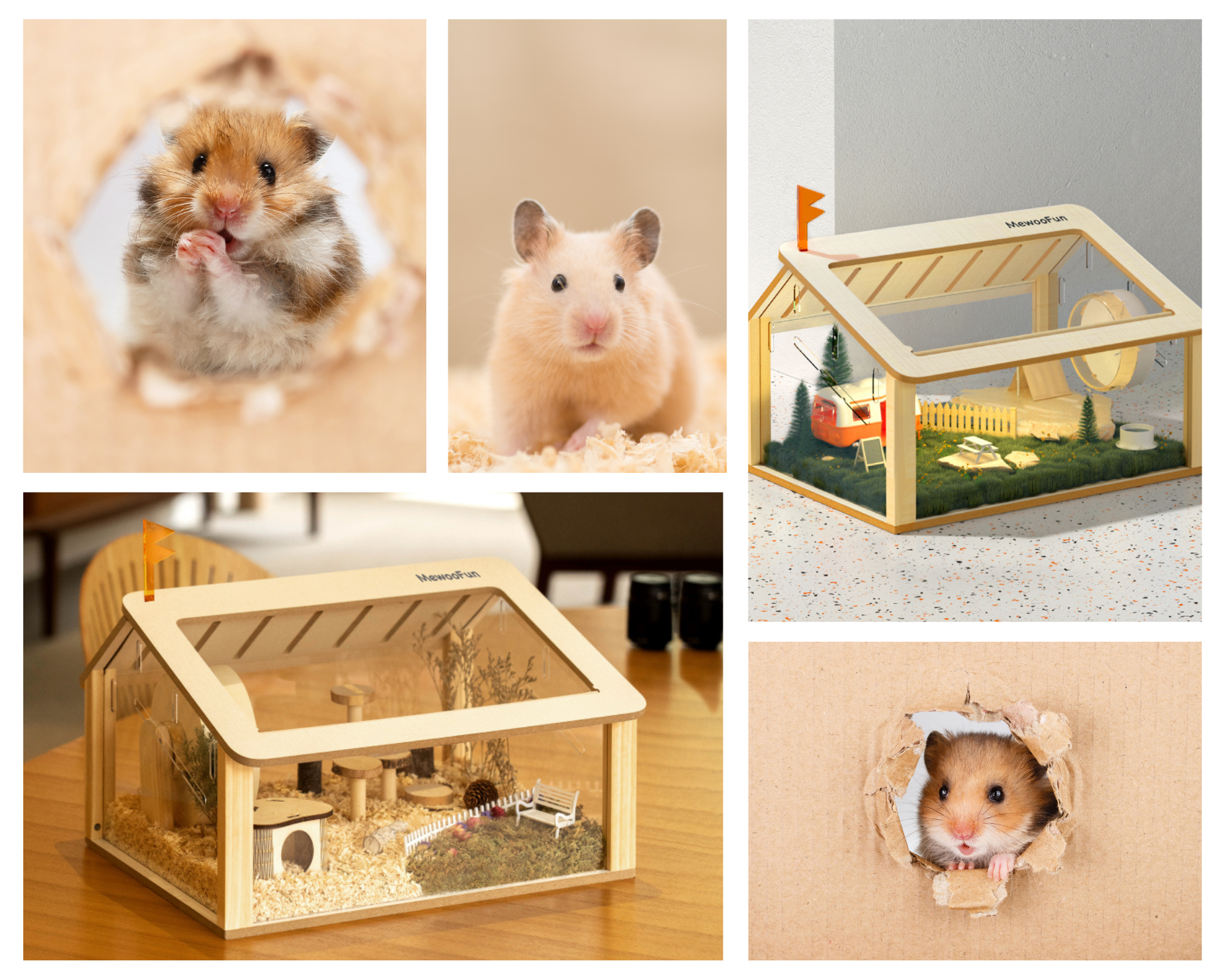 Why the Hamster Cage should be Large?
Cage Size
Hamster cage size has been an object of debate for a long time. Different animal welfare organizations point out different cage size requirements.
RSPCA used to have minimum requirements of 430 square inches for dwarf hamsters and 620 square inches (4000 square centimeters) for Syrian, but they have since stopped recommending the minimum due to a lack of evidence on what hamsters prefer. But they point out that you should make the cage as large as possible.
I like to stick with their previous requirements and go with 620 square inches for all hamsters as an ethical minimum. The more space they have, the more enrichment their cage can provide, making for a happy and healthy hamster.
So the ethical minimum continuous uninterrupted footprint of the cage I recommend is 620 square inches (4000 square centimeters), which equates to 31.5 x 20 inches (80 x 50 cm) or a longer, thinner 4ft tank. Many hamster cages sold as modular systems of interconnected smaller areas don't provide such a continuous footprint, making them a bad choice for hamsters.
If you don't want to settle for a bare minimum for your hamster, a cage of at least 775 square inches or more would be an even better option. This minimum cage size is recommended by German animal welfare organizations, which have higher standards than the rest of the world.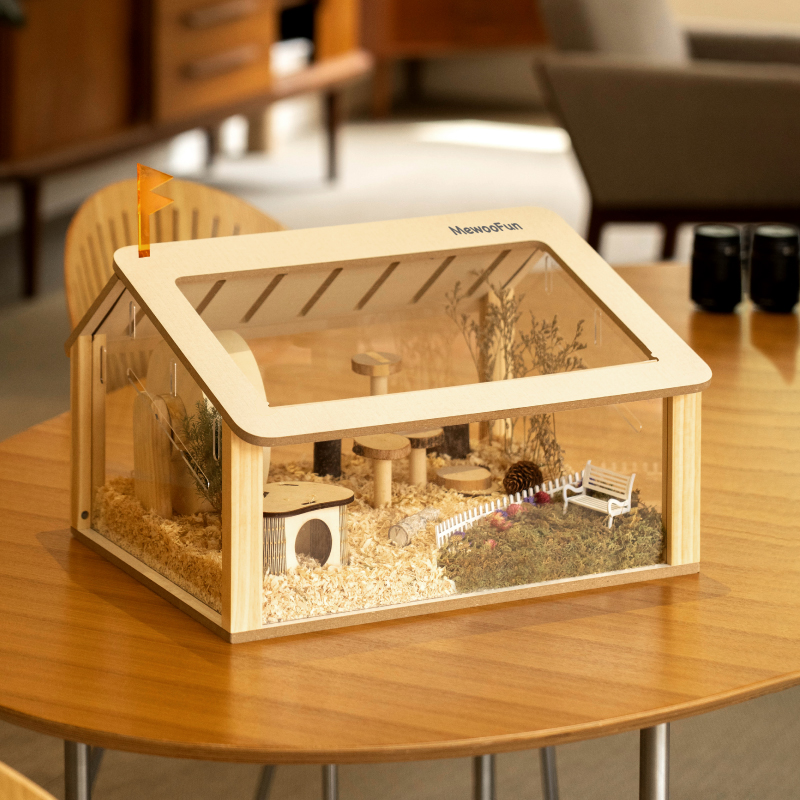 What Kind of Cages to Choose?
The large wooden hamster cage is a great cage for your hamster. It is very spacious and has a lot of room for your hamster to run around. The cage is also very well made and is very sturdy. The only downside to this cage is that it is a bit expensive. Overall, this is a great cage for your hamster and is worth the money." If you're looking for a spacious and well-made cage for your hamster, the large wooden hamster cage is a great option. It's made from sturdy materials and provides plenty of room for your hamster to run and play. The only downside is that it's a bit on the expensive side.
The Large Wooden Hamster Cage is the perfect home for your pet hamster. It is made of high-quality wood and is easy to assemble. The cage includes a water bottle, food dish, and a bed. It also has a spacious exercise area and a slide-out drawer for easy cleaning. Your hamster will love his new home!